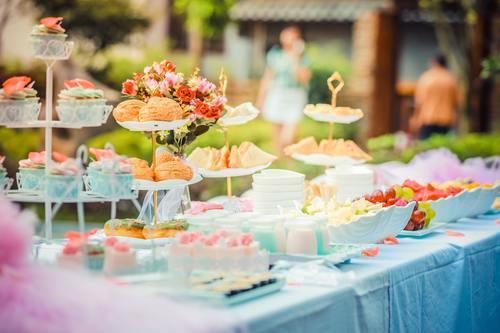 Self catering a wedding
If you already have the cake taken care of then catering a wedding can be really easy.
Buffet
If you are having a small, laid back reception, you might want to consider laying on a buffet with a range of finger food to suit a variety of tastes, remembering that many people now are vegetarian, vegan or have food allergies. people can choose what they want to eat from a wide choice, eat when they feel like it, and dance and mingle while doing so. It is perfect for informal weddings, or a wedding where there will be several smaller children.
Sit-down meal
For a more formal wedding then a sit-down meal is the better option. It is more costly per head, but you can enjoy several courses and engage in conversation with those seated at your table. Meals such as salmon, steak or chicken are popular choices. For vegetarians, a pasta dish, or mushroom pot pie are common favourites.
Consider the audience
Yes, it is your special day, but it is important to consider the needs of your guests. You can do this easily by offering a choice of options whether it is a buffet or sit down meal.